I had lots of fun on Halloween! Here are a few pics of our shenanigans...
This one is my friend Melissa, the "party pooper" and me, "Mrs.Claus"
Me and Melissa's Fiance, Sean, the "party animal"
Someone's "boobies" ended up in my possesion... How? im not too sure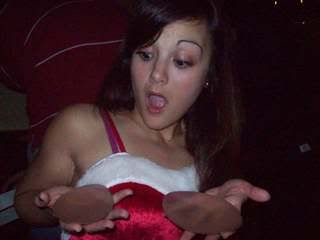 Party pooper and party animal
A bunch of us lookin verrry happy!


Now if i hadn't gotten soo drunky, i might have some better quality pics... i'm sure you get the idea though!
How was your Halloween?