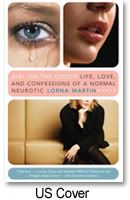 Another really good read! A memoir, written by Scottish Journalist Lorna Martin: She goes into major debt to spend a whole year in intensive (3 times a week) therapy, in an attempt to figure herself out.
Check it out, it makes the idea of therapy seem kinda.... fun? Well maybe not exactly fun but worthwhile for everyone perhaps..
Couldn't we all use a little help figuring ourselves out? I know i could.