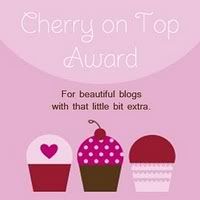 I am truly honored to accept this bloggie award from Nicole @ Noodles and Waffles. :) . Go check out her blog, she's genuine, cute, fun & she and her husband are so active (swimming, biking, hiking...) that i kinda feel like a lazy bones. Thats ok, i am & i accept it! hehe

Here's the deal:

1. Thank the person that gave you the award.
Thank you very much Nicole!!

2. Copy the award and put it on your blog.
okie dokie

3. List 3 things you love about yourself.
1. I am caring.
2. I am loving
3. I am SILLY (oh & i have long lashes like nicole!!hehe)

4. Post a picture you love.


hehe!! Just kidding Rob!!



I love this picture, it captures the love & happies from our little moment.
and come on.... how handsome is my cowboy???? ;)

5. Tag 5 people & pass on the award.

Krystal @ Village
Becca @ Adorable Optimism
Suz @ Day by Day with Suz
Ashlae @ Ladycakes
Lenore @ Lather.Write.Repeat