This past weekend i went to South Carolina for Rob's boot camp graduation. Southern people are

sooooo

polite, i was actually called

Ma'am

a few times!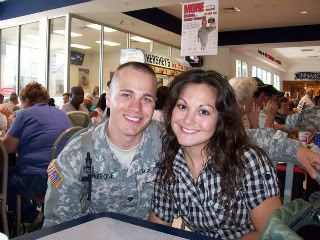 Needless to say i was ridiculously excited to finally spend some to with him, not to mention

superproud

of my "

soulja

boy" :).
Doesn't he look so handsome in his

camo

?
Oh yeah......

yipppeee

for finally ending the two months of celibacy!!!

hehe
Boooo

for a few more months of it while he's away at

OCS

( Officer Candidate School), i can do it though,

I'm

a good little girlfriend!