I really like Chloe Sevigny, she has the most truly unique style.
Big Love is one of my FAVE shows, her character, Nicki, never fails to

crack me up

w/ her permanent sour puss face and uptightness.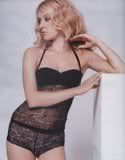 i

love

everything about this photo, her eyes look gorgeous, the hair is so soft and pretty & i just wanna prance around the house in this lovely little black lace undie set!