My wonderful and fabulous friend Jennifer came over with two lovely surprises for me last night: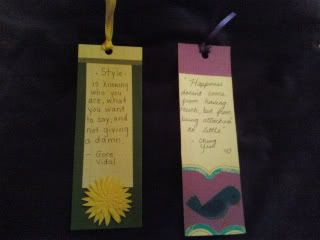 She chose quotes from my blog and knowing how much i heart reading, made me two beautiful bookmarks! She is incredibly crafty and has made gorgeous scrapbooks for all of our friends. (Although the one i have is from her beginning days, i would absolutely adore an updated one *hint hint*.)
I decided to start putting one to good use this morning and began reading " Names My Sisters Call Me" by Megan Crane, it seems cute so far. Have any of your read it? If so did ya like it?
Tonight Rob and I are going into the city to see The Fantastiks, im really excited, i hope its good :)
We are supposed to be getting a bunch of snow tonight which puts a bit of a damper on my plans to wear cute shoes....
I hope you all have some marvelous plans for the weekend!