My cats tend to be extra crazy during the early morning hours, today was no exception. Gizmo was the leader in this morning's antics. First he led an expedition exploring under the tablecloth on the dining room table. Then he flew across the house into the living room where he proceeded to CLIMB up the brand new curtains ( my yelling did not deter him). Finally he noticed a freshly folded comforter placed down neatly on the couch, this was no place for a just washed comforter he decided. I looked on as he began the process of knocking it off the sofa and finagling ( is that a word?) himself into a cozy position.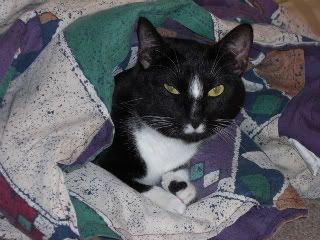 Please ignore the ugly pattern, it is not mine ;).At present time, this is still where Gizmo and the comforter lay, smack in the middle of the living room floor.Somehow, the

worse

his behavior, the

cuter

i find him; why do you suppose this is??