A few days ago I stumbled upon a blog called "The Skinny Website", if you've never heard of it, it's a blog where they obsess over whether or not a celebrity has recently gained or lost a few pounds. These pictures of Jessica Simpson were posted: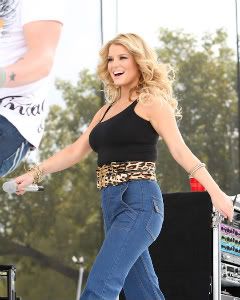 Now I think she is a BEAUTIFUL girl with an amazing body. I do think the pants and belt are a tad too tight and unflattering. Maybe she has gained like 5 pounds or something insignificant like that.
The comments people left about these pictures made me sick.
Numerous people said she looked "fat" , "unhealthy" & she had " let herself go" , can they really be serious?
It is SO sad how obsessed we all are about weight, myself included.
Lately I've been a little stressed out and find myself worried about gaining weight, but if i gained a few pounds..... would it really be so bad? Would my life be over ? No,I'd still be me, and i should be happy with who i am as long as I'm healthy. Why do we all find it so hard to be happy with ourselves?
My goal is to stop worrying about insignificant things like calories consumed and pounds on my waist and instead focus on how good i feel after a workout and how strong i am.
Do you have any tips on blocking the "mean" voices in your head that criticize what you eat or "tell you" you might gain weight?
Are you as sick of the obsession as i am?