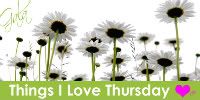 Honey Mustard and Onion Pretzel Pieces * very, very yummy, give em a try! ( i think they are Synders)
Lookbook * I still haven't posted my own " look" yet but i have a ridiculously good time scrolling through all the outfits people put together.
Getting a Massage Today! * Rob suggested we get massages so i called last night and luckily nabbed two appointments for us at noon, wooohooo :)
Working Out * Since we joined the gym we've been going almost every morning, i really love how it kickstarts my day!
Looking Foward to Friday Night * Going on a double date w/ my bestie Jen (the bookmark maker) and her boyfriend Matt. We are having drinks at a really nice bar/restaurant called Honu, they make the most AMAZING coconut martinis, they put honey on the rim of the glass and then dip it in toasted cocunut mmmm... SUPER excited about this!!
The Future * Im still really enjoying planning for the future, it seems that my idea of " my future" may be arriving sooner than i thought ;)
So what do you love today?