Finding New Recipe's


*Lately I've been getting really excited about cooking and baking. Last weekend i made the most delicious banana coffee cake w/ chocolate chips. IT. WAS. AMAZING. Thanks are in order to Megan over at sweet n low for the recipe! I want to start trying new and healthy foods and am going to try to make a yummy dinner at least once a week, that doesn't sound like much but i work nights and usually end up eating cereal or whatever is around when i get home from work ;)



Realizing It's the Little Simple Things That Matter


*A few days ago i made a list of the things i want/want to do. There were a few material items on the list, but what made me really happy was seeing that 80% of the list was made up of FREE things/actvities/ actions.



The Return of Nip/Tuck & Big Love
*Oh how i just adore these shows!! Nip/Tuck provides, sexy men(there is a distinct possibility that i have entertained very private thoughts involving Dr. Christian Try hehe) along with endless drama and sometimes it makes me laugh like a hyena! Big Love is just so captivating, i can't help but be drawn into the strange, strange world of that big family.

I

heart

how deleriously happy this little kitty looks!
* if you would like to enjoy some more adorable kitty pics check out this fab flickr account:
http://flickr.com/people/fofurasfelinas/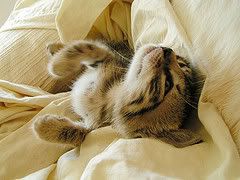 I hope you all have a EXTRAORDINARY Thursday.